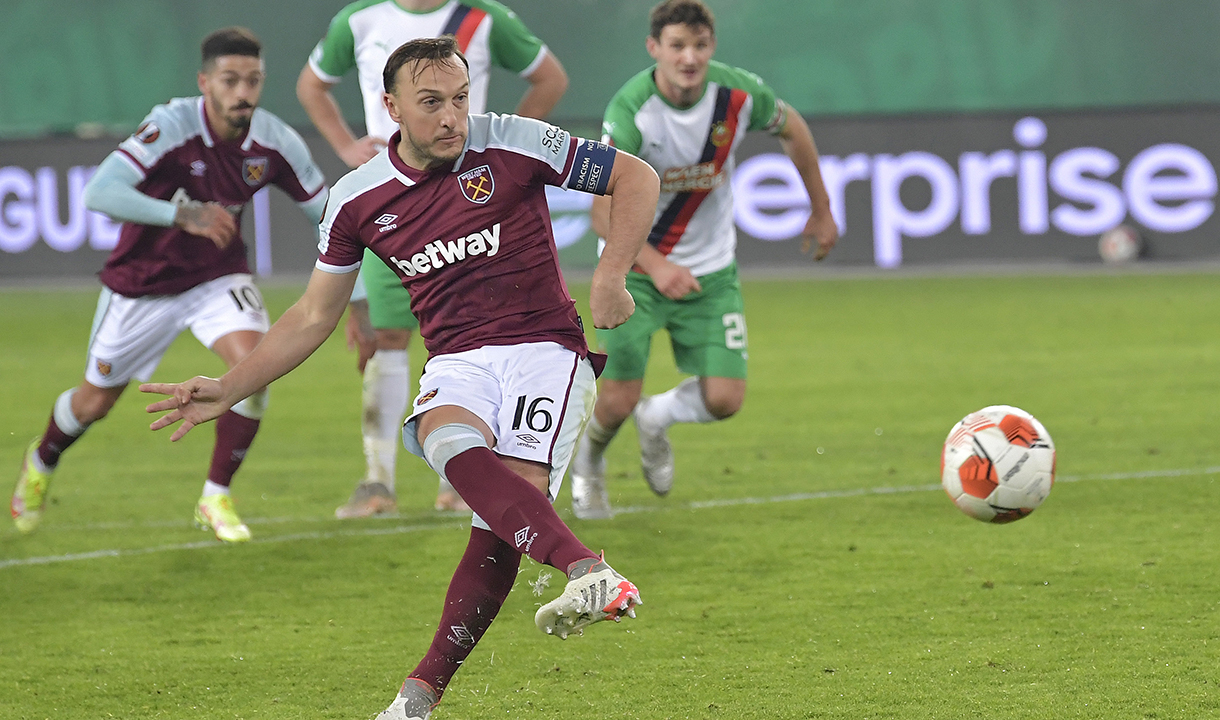 Mark Noble: It's fantastic to be at the top of our UEFA Europa League group
West Ham United captain Mark Noble was delighted to help his club secure first place in Group H of the UEFA Europa League.
The Hammers' skipper was a generally composed and imposing midfield presence at the Allianz Stadion, and could be heard – with no fans in attendance – guiding his teammates to a professional 2-0 victory over Rapid Vienna, a result that has him secured the first place in the group. .
Noble was also on target with a precise penalty in the first-half stoppage time, putting his side in a dominant position after Andriy Yarmolenko – who had opened the scoring moments before with a header at the far post – had won the shot on goal with a few quick feet.
With the 2-0 victory and first place in Group H, the reward of a direct progression to the knockout stages of the Europa League, meaning West Ham will avoid an additional play-off against a UEFA side Champions League entering the tournament.
"I think we probably could have scored two or three more if we were clinical," Noble said.
"Our finish probably wasn't as good as it should have been tonight, but I think we played well enough to win the game. We were a little sloppy at times, but we had an away game against Wolves on Saturday and we traveled a lot.
"Obviously the manager changed the team quite a bit and I thought the boys who arrived did well, and we got the three points we wanted to reach in the lead.
"For me, coming to play in Europe in my last year was fantastic [to score], and obviously with the way we're playing in the Premier League right now, to come first in the group stages of this competition is fantastic.
"We have one more game in a few weeks [against Dinamo Zagreb at London Stadium], and then we don't play [in Europe] still until March, so it's great for us [with our busy upcoming schedule]. "
Noble felt that the timing of his and Yarmolenko's goals – shortly before the halftime whistle – was crucial in providing the Hammers with some comfort on the road.
We just have to keep our players in good shape, keep playing well and manage the last 16 when it comes to

Marc Noble
Played in the surreal environment of an empty Allianz Stadion – COVID-19 restrictions imposed by the Austrian government meant Thursday's game was played behind closed doors – Noble and his teammates continued to create plenty of other opportunities in the second half With Rapid Vienna struggling to match West Ham as the visitors shift into high gear.
"I think it was very important," noted Noble. "We had two or three chances that we didn't quite finish.
"Jarrod [Bowen] had one and I think Yarmo had one – and then Yarmo got a great header with a really good ball from Niki [Nikola Vlašić], and then obviously there was a penalty on my part. It made it more comfortable for us to enter at half-time.
"They were a good team. We have learned that from [the game at] London Stadium we knew they wouldn't stop fighting and playing good football, the boys were just a little too strong for them tonight.
Noble and West Ham's attention will now turn heavily to a trip to Manchester City's Etihad Stadium in the Premier League on Sunday.
The captain – usually focused, generally diligent – admitted he wouldn't think too far about potential Europa League opponents and, with West Ham's knockout game not scheduled until March, prefers to focus on the next task in progress.
He concluded: "Obviously there are dreams – you can always dream – but there are top teams in this competition.
"Yes we came first in our group, a tough group, but I still think there is a lot of work to be done and obviously the further you go in the competition the better the teams you get, so we have a long way to go until we get into the next round.
"We have a lot of games to play by then so hopefully we can keep moving forward in the Premier League. We also have a tough Carabao Cup quarter-final against Tottenham.
"We just have to keep our players in good shape, keep playing well and face the last 16 if necessary. "