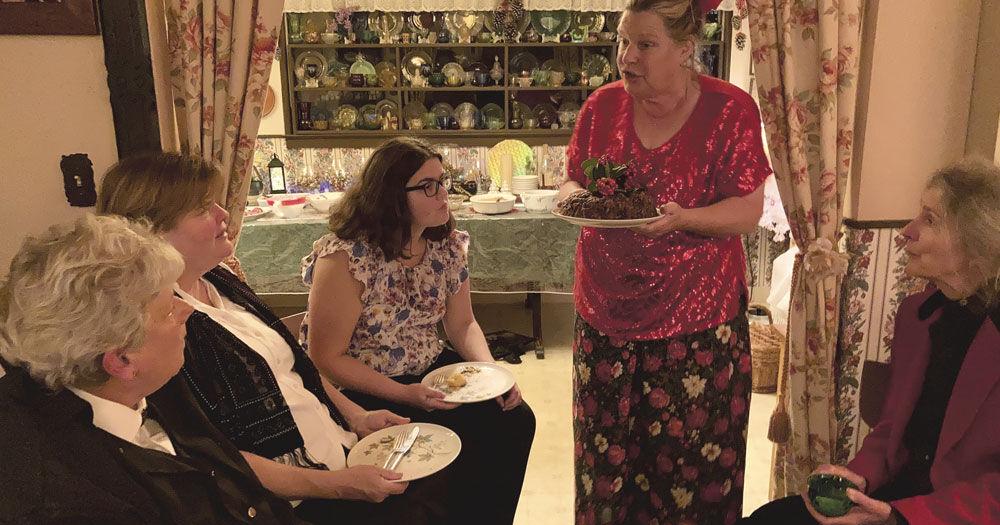 A group from Pacific Grove that focuses on Charles Dickens is still going strong after 30 years. | 831 (Tales from the area code)
It was the best of times, it was the worst of times, it was the age of wisdom, it was the age of madness, it was the time of belief, it was the 'time of unbelief, it was the season of Light, it was the season of Darkness, it was the spring of hope, it was the winter of despair, we had everything ahead we had nothing in front of us.
-Charles Dickens, A Tale of Two Cities, 1859
That Charles Dickens was able to write such timeless and revealing words in the opening of his novel A Tale of Two Cities 162 Years Ago, which could easily have been written about life in 2021, is testament to the endurance of the work of the prolific author. Today, Dickens has dedicated fans around the world in many organizations dedicated to reading and replaying his work, including a very active group in Pacific Grove who are now celebrating their 30th birthday.
On a recent dark December evening at PG, around 15 members and visitors gathered at the historic home of Beth Penney, founder of the Monterey Peninsula Dickens Fellowship. It is one of 59 active groups with official charters from the 119-year-old Dickens Fellowship, headquartered in London. The Peninsula group had gathered for their annual Victorian-themed Christmas party where guests were invited to come dressed in 19th century gowns.
Penney, professor of composition at Monterey Peninsula College, founded the group in 1991 after attending the annual Dickens Universe conference at UC Santa Cruz. (This talk is now in its 41st year.) She had been a Dickensian fan ever since her mother, also a fan, gifted Penney a novel when she was a young girl. (Coincidentally, Penney was born on Dickens' birthday, February 7.)
"I enjoyed being with other people who loved to talk about Dickens and wondered why not form a band to do it for more than a week a year? Penney said. She invited friends over and they started to meet each week, first reading The Pickwick Papers.
The group votes on which Dickensian novel, short storybook or biography to read for the year, discussing it chapter by chapter once a month. They have read some of his works more than once. This year they're reading A Tale of Two Cities, which they started before the pandemic in 2019 and then picked up again in 2021. They break up the discussion in December for the Christmas party, and again in February to celebrate Dickens' birthday. in a room. pub.
There are nearly 30 contributing members in the fraternity. "I'm just amazed at the support the band has continued to receive over the years," Penney says. In addition to being its leader, she also produces the group's monthly newsletter, "The Mutual Friend," named after Dickens' latest novel, Our Mutual Friend.
Elaine Ewen, of Carmel, joined the group about 29 years ago, after moving from Los Angeles where she was on another Dickens scholarship. "It's a sociable group. We do a lot more socializing than reading, "she says.
Longtime member Janet Bruman resisted Penney's invitations for many years. Then Bruman said, "If you ever read a biography, I'll join you." That was 20 years ago. "It didn't make me love Dickens as a person. He was a pretty despicable human, but I grew up to appreciate his writing, "Bruman says.
As much of a 'cad' as Dickens was, according to Bruman, Dickens had a heart for women and children in need, Penney explained to guests. Each year, they vote for local charities to donate a portion of their cash, with members contributing. After a lively discussion, members voted to donate to Gathering for Women, the One Starfish Secure Parking Program and the Monterey County Food Bank. "I think if Dickens had been sitting in this room he would have been very happy with this discussion," Penney said.
It's hard not to ask a bunch of Dickensian fans at Christmas what they think of A Christmas Carol, one of Dickens' most famous works that has been remade, copied and spoofed hundreds of times. The adaptation that some members prefer is the 1938 American film starring Reginald Owen. For Penney, her favorite version is the original book, which "has a timeless message," she says. "It goes without saying. People keep coming back to it.